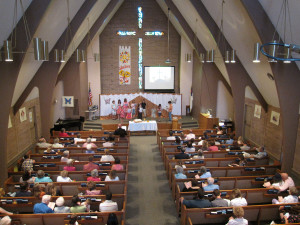 There are a variety of opportunities for volunteers to become involved in ministry at the First Presbyterian Church of Elko. If any of the opportunities below interest you, call (775) 738-3430, or submit a message using this website's contact form.

Lay Readers
Lay Readers read the designated Scripture passages during worship services. They tell the congregation on what pages the passages may be found in the pew Bibles, and they ask the congregation to stand for the Gospel readings.
Lay Ministry
Members of the church family are occasionally invited to deliver the sermon or lead other portions of Sunday services, usually when the pastor is unavailable to fill the pulpit.
Teaching Ministry
There are a variety of Sunday School teaching positions available, including leadership of Children's Church. Vacation Bible School offers additional opportunities to share your gifts with the youth of our church and community. If there is already a leader assigned to a particular group or activity, he or she would usually welcome help.
Youth Ministry
Currently, the church's youth gather at the church on the first Sunday of each month at 5 p.m. for fellowship and fun. If you enjoy working with youth, leading or helping lead FPC youth groups will provide an outlet for your talents.
Music Ministry
If you like to sing and can carry a tune, the choir will welcome you to its ranks. If you sing or play an instrument, the congregation will welcome the sharing of your musical gifts during Sunday worship, particularly during the summer months when the choir is inactive.